On Sunday, October 1, Charlie will be hosting a social at his home in Morristown, NJ, from 11 am to 3 pm.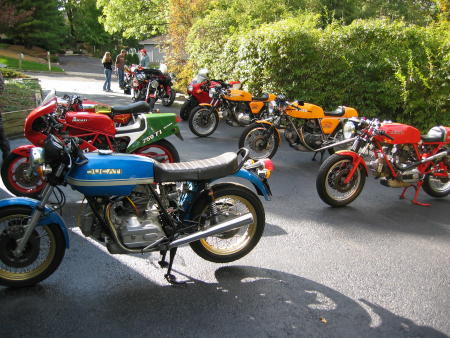 Charlie has a collection of vintage Ducatis, including:
Roundcase 750 Sports
Squarecase 900 Supersport dedicated racer
860 GT
DESMO single
750 F1
There will also likely be some members with their own vintage Ducks, possibly including a Mille and a roundcase GT.
It will be a nice day to hang out with your friends, meet some new members, and closely examine some historical motorcycles that were the inspiration for your own ride.
Cost is only $10 for lunch. You must paypal in advance, and participation is limited.
Please paypal to desmo@desmoducati.org and let us know if you have any questions.
You can reserve your spot now via PayPal.
Payment Instructions
Please send funds via PayPal and follow these easy instructions:

1. Click the Send Money tab at PayPal
2. In the Recipients Email box put the DESMO ID
The club PayPal ID is: desmo@desmoducati.org
3. Put in the Amount to send $10.00 USD per person
4. Choose Goods (other) in the "Category of Purchase" box
5. In the Subject field enter "Charlie's Garage"
6. In the Note field specify who is attending
7. Click on the Continue button to check your order
8. Click the Send Money button to complete your order